Description
Are you actively involved in sport or have an active lifestyle???
Well this is the mattress for you and they have been tried and tested and highly recommended by professional sports people and Olympic athletes!
Do you crave  therapeutic, re-energising sleep and rest???? well read on
Therapy mattresses were launched in 2012 to coincide with the Olympics to highlight a mattress made specifically for active lifestyles to the health conscious, for increasing recovery after exercise or surgery or for purely enjoying sleep by creating a highly comfortable, supportive mattress.
In the heart of every therapy mattress is a cleverly constructed CASTELLATED MULTI ZONE UNIT this advance unit with it's individual castellation comfort cells create air channels which enhance ventilation, airflow cools the mattress and promotes therapeutic sleep, aiding and refreshing aches and pains and alleviating pressure points.
The sports therapy next generation memory foam blu cool is a world class mattress designed for athletes but available for everyone. Its unique structure relieves tired muscles and relieves areas of stress throughout the body.
The mattress is topped with a generous layer of Blue cool memory foam on top of the castellated multi zone foam and finished with a climate cool quilted cover.The inclusion of blue cool memory foam adds an extra layer of the very best sports and pressure relief. Blu cool memory has all the properties of traditional memory foam it responds to your body  temperature and pressure. It moulds to your individual contours offering excellent support but the cool blue memory foam doesn't cause heat retention so you have all the benefits without being "too warm" in bed.
The castellated multi-zone construction gives a credible targeted support working with a luxurious climate cool fabric that enables maximum air circulation. The multi zone foam systems airflow channels reduce humidity for a deeper nights sleep. This superior aeration decreases fungal and microbial growth in the mattress core. Bug guard technology is made from natural Eucalyptus oils which is resistant to  dust mites and bed bugs. It is environmentally and user friendly as well as being suitable for sufferers of allergies, eczema and asthma
It is a 25cm deep non turn mattress for ease of use. It will need to be rotated head to toe regularly. For added reassurance and peace of mind it  is manufactured  by a National Bedding Federation approved member  which means they adhere to the NBF  strict code of practice.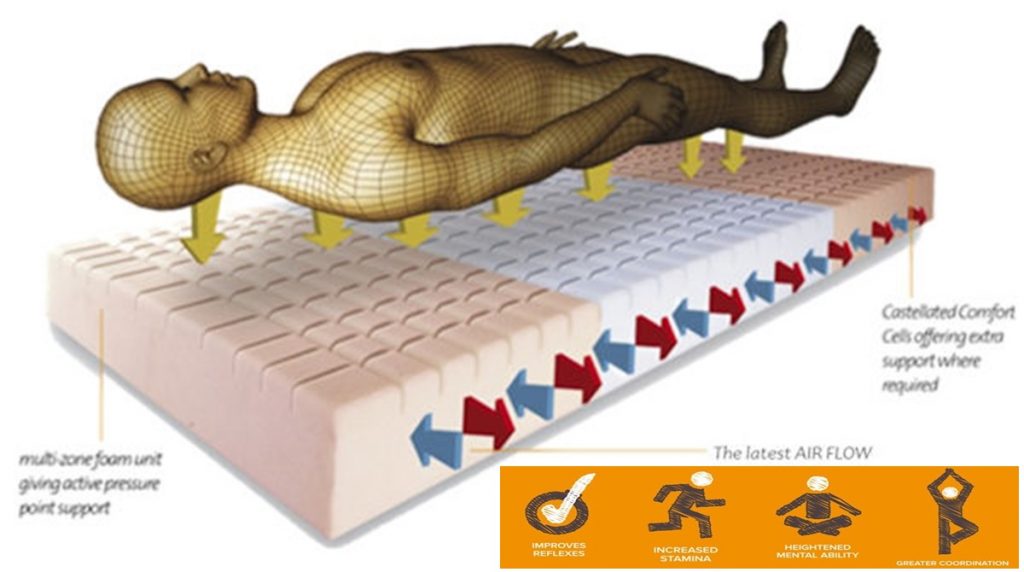 approx 25cm deep
medium to firm with a cushioned comfort feel
Non turn
Available in Single, small double, double, king and superking
NBF approved
Bug guard
Made in the UK
1 year warranty
Castellated multi zone unit allows warmer air to be replaced with cool refreshing air
Climate cool fabric helps reduce humidity
Blu cool gel offers next generation support and pressure relief properties
The Therapy mattresses are part of the Vogue group bed manufacturer of the year runner up 2017-2018